Thursday, April 15
One year ago, I took this picture of Faith and published it on the blog just for Papa:
Also on
April 15, 2009
:
Faith's bilirubin levels started to plummet! She went from a total bili of 10.8 and direct of 7.2 on April 9, 2009, to total bili of 7.1, and direct of 4.6!
Faith started breastfeeding, at 5 months old, after having only previously breastfed for about 2 weeks when she was 2 months old! She was allowed to breastfed four times a day, for as long as she wanted to.
Faith was hooked to TPN and Omegaven for 18 hours each day.
Faith's tube feeds were continuous, running at a rate of 16 ml/hr.
On April 15, 2010:
Faith's bilirubin levels (and all of her other blood tests) are completely NORMAL! She's not even slightly yellow anymore, and definitely nothing like that picture! It amazes me that I thought she looked so GOOD and pink there!
Faith is eating only by mouth during the day, and has started to figure out drinking, now that we've figured out what kind of cups to use for her! (the cheap take & toss cups with no valve- not spill-proof so the liquid just comes out when she tips the cup) Her favorite food so far seems to be butternut squash :)
Faith has been off ALL TPN for 8 months!
Faith's tube feeds run only at night; she gets one 500 ml bag, which runs at a rate of 65 ml/hr.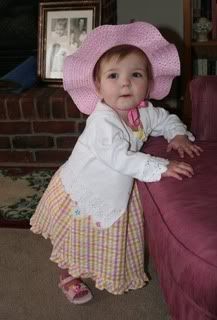 I can't believe an entire year has gone by, and I am continually amazed at how far this amazing little girl has come! I think God must have something huge in store for her!